Consider 'belief' as the metaphysical potential (ie. capacity for) displacement concerning c = 'unity'
as a
general displacement factor
: some state of 'belief' in something which is not necessarily true,
thus displaced from unity (allowing truth and unity to be in
discretionary
relation/equivalence).
Though not all beliefs are
false
, neither are all
true
. How to "capture" the former?
There must be a connection between
discretion
and
ethic
(al control units)
such to naturally produce a knowledge counter-part(s) to all
false beliefs
.
What would the ideal constituency of these
anti-
false-belief counter-part(s) be?
I propose this must simply be 'knowledge' as it must pertain to (the negation/cessation of) mere 'belief'
such that the active/indefinite attaining to,
must
negate all local displacement(s) caused by the same
concerning unity.
(Meta-)
physical bodies and anti-bodies thus have roles concerning these:
body of false-belief(s) (ie. local displacements) whose gravity is accordingly cumbersome, and
body of true-knowledge(s) (ie. as attainable by (con)science(s)) whose attaining-to alleviates the associated encumbrance.
It is on these grounds I further propose an axes comprised of roots/operators:
operators: all/not
roots: beg/end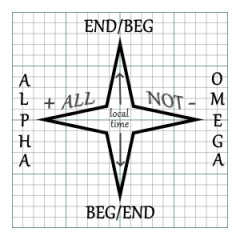 _______________
wherein 'operators' captures all binary conjugates (ie. in/out, to/from, yes/no as if counter-posed 180-degrees each the other)
and 'roots' captures all displacement(s) from their beginning (ie. causation) through to their end (ie. cessation).
The axes should exist both physically (insofar as s/t captures the physical universe as displacement) and
meta
physically:
space captures beg/end of all spacial phenomena, whereas
time captures all/not (existence/non-existence)
the latter being the local/particular "trajectory" according to the constituency
(ie. of all false-belief and of all knowledge-negating).
If such an axes is on the right track, it can serve to 'oust' GR by advancing an actual 'theory of everything'
such to solve for a present-day crises which has a
real bases
(ie. axes) to explain the existence of all
causation/cessation of all forms of
human suffering
: belief-based ignorance(s)
causing
the same
(with "universally" broad-scale application: theist/atheist-invariant, belief-based-ideology-indiscriminate etc.
all beliefs are "fair game" for trial) and establish an absolute imperative to align humanity simultaneously away from
belief-based states and towards knowledge-based ones such that they should serve towards the perpetual
trying/testing/falsifying of all false beliefs. In this way, a 'theory of everything' can come as close as "humanly" possible
to solving the problem of belief vs. non-belief without even the need to addressing the actual/potential existence of (as such is just not a scientific problem):
an all-knowing god: if an all-knower exists, it must by necessity know
all
(ie.who/what/where/why/when/how and/or if):
not to believe
.
Because GR is belief-based, given the many absurdities therein esp. concerning 'black holes' as infinitely dense mass-points (?),
such a 'theory of everything' would most certainly oust it: humanity simply can not afford to cling to this belief-based
nonsense
less we all fall victim to it: there is a
real
solution to this problem which necessitates
real science
. I have reached out
to a few prominent people in attempts to find some common grounds to tackle this problem, however presently private,
will update this thread with a general update and welcome all to contribute, recalling Bruce's encouraging words:
bperet

wrote:

↑

Tue Dec 03, 2019 10:08 am

From what I've read of the ideas and questions being posted, there are some very intelligent people here. I ask they you folks take a stab at answering each other's questions... you're a smart bunch and know more than you may realize about this theory. So please don't be shy... put out those ideas, right or wrong. Many times a wrong idea opens the door to a new discovery... just look at many of my posts! One goof lead to the discovery that galaxies are actually solar systems! Sometimes, you just need to take that leap of faith to see where an idea goes.

I will be working with Gopi to try to put together an outline of my research, detailing the differences of RS2 from Larson's RS (the inclusion of the yin/angular components) to show where I was heading. I strongly believe that the inclusion of the quaternion approach is the correct path, and will open the door to many new discoveries.

I will continue to contribute as long as I can. After all, this is my life's work... dedicated 38 years to it!
Best wishes to Gopi in putting together a general outline of Bruce's work: should we attract consideration from any prominent people with an aligned goal for humanity, such a compilation will be of exceeding value such to serve the need for an up-to-date on the status of RS2 which rejects Einstein's GR and proposes an inductively rooted physical theory which accounts for the causation/cessation of all forms of human suffering: beginning with Einstein's dead-on-arrival GR being one such nearly-insufferable source.